Carl has published more than 200 research articles and book chapters focusing on technique and instrument development in molecular diagnostics. In the early 1990s he developed rapid-cycle PCR for DNA amplification in 10-15 min. In the mid-1990s, he adapted flow cytometry optics to thermal cycling for real-time monitoring of PCR. He introduced SYBR Green I, adjacent hybridization probes, melting analysis, and high-resolution melting (HRM) to real-time PCR, techniques that are widely used today. He has been on the Clinical Chemistry Board of Editors since 2000 and an Associate Editor since 2002.
Recently, he has modified the polymerase chain reaction (PCR) for efficient amplification in less than 30 s, and reduced times for melting analysis to less than 10 s, opening up new possibilities for 'while-you-wait' nucleic acid diagnostics. Academic recognition includes the AACC award for Outstanding Contributions to Clinical Chemistry in 2004, the IFCC Award for Significant Contributions to Molecular Diagnostics in 2005, the AMP Award for Excellence in Molecular Diagnostics in 2008, the University of Utah Award for Impact and Innovation in 2011, the AACC Edwin F. Ullman Award in 2013.

In 1990, Carl co-founded BioFire Diagnostics, a company that has grown to over 1,600 people today. He served as Chairman of the Board from 2012 until its acquisition by BioMerieux in 2014. He was the primary inventor of the LightCycler system, with over 10,000 units placed worldwide by Roche. Carl holds 39 US patents and their foreign equivalents. Business recognition includes small business innovation awards in 1999 and 2002, the State of Utah Governor's Medal for Science and Technology in 2003 and Utah 'Pioneer' and 'Genius' awards in 2015.
---
Features
TechVentures : Video Profile of Dr Carl Wittwer and Innovation at the University of Utah, 2012.
Inspiring Minds : Essay by Misia Landau about Carl Wittwer: Clinical Chemistry, 55: 1744-1746, 2009.
"Taking It to the Extreme: PCR at Wittwerspeed", Clinical Chemistry 2015. Editorial.
Interviews
The Truth, Not the Myth, of Inventing | Lab Mind Podcast (ARUP), November 2018

Compromised Melting | PCR Feature in Biotechniques, March 2012

BioSpectrum Asia, February 2009
Current News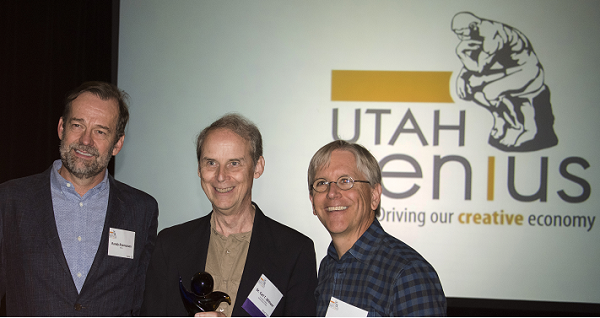 Carl (center) recently accepted the 2015 Utah Genius Lifetime Achievement Award for his work in molecular diagnostics.
The Pathologist Power List 2015 listed in The Pathologist 13;29:2015. Described as, a pioneer in nucleic acid analysis, Carl invented a number of key polymerase chain reaction technologies that are now used worldwide. He is a professor of pathology at the University of Utah Medical School, technical vice president and medical director of the Immunologic Flow Cytometry and Advanced Technology laboratories at Associated Regional and University Pathologists, a co-founder at BioFire, and a recent winner of the Utah Genius Lifetime Achievement Award for his contributions to molecular diagnostics." See more of the Pathology Power List Here...
Kary B. Mullis, in the preface to, The Polymerase Chain Reaction, Springer Science and Business, 1994, page xi: "Few, strictly methodological people are working with DNA. A refreshing exception is Carl Wittwer, from, strangely enough, the Pathology Department at Utah Medical School. I would have thought, Chemical Engineering at Cal Tech, but I knew otherwise. If I were you, I would read his paper, or have someone more technically competent explain it. Carl has thought about PCR in a way that very few others have, and his thoughts are crisp and practical. I have always known that a good physiochemical description of PCR would be very useful, but deriving one was over my head. Others have tried but not succeeded…""
W. Edward Highsmith, Jr, in an editorial for Clinical Chemistry, 2004;50:1296-1298: "Dr. Wittwer and his colleagues have pioneered rapid, affordable mutation-detection technology and have moved these developments out of the engineering laboratory and into the clinical laboratory. Looking to the future, I can hardly wait to see what the Wizard of Salt Lake will come up with next."
Stephen A. Bustin, in the preface to, The PCR Revolution; Basic Technologies and Applications, Cambridge University Press, 2010, page xiv: "Contributors include giants of the PCR field: Carl Wittwer, the 'father' of qPCR instrumentation as well the pacesetter behind numerous practical qPCR innovations…"