A Bit of History...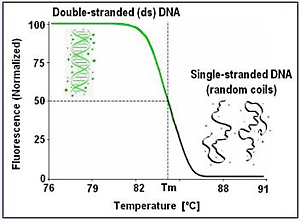 In the 1960s, melting of double-stranded DNA was monitored by UV absorbance (hyperchromic effect). Analysis required µg amounts of DNA, and often took hours to complete, while samples were slowly heated at rates of 0.1-1.0 ºC/min. Contemporary DNA melting analysis uses fluorescence, and because it is a more sensitive method, it needs only ng amounts of DNA (amounts easily prepared by PCR). Fluorescent DNA melting analysis became popular with the 1997 advent of the real-time PCR instrument LightCycler
®
. Capillary sample formats and small sample volumes allowed better temperature control and fast melting rates of 0.1-1.0ºC/sec, shortening the melting time to a few minutes. The fluorescence indicator used back in 1997 was the dye SYBR
®
Green I, a sensitive, convenient dye for real-time monitoring of amplification and melting of amplified products.
New to Melting? Watch the
High-Resolution Melting Webinar with Dr. Carl Wittwer (Biotechniques, 2017)
High-resolution melting analysis
is a novel method introduced in 2003. Similar to the LightCycler, this too was a result of collaboration between our lab at the University of Utah and Idaho Technology, Inc (Salt Lake City, UT). The method uses high data-density acquisition, and detects small sequence differences in PCR fragments, just by direct melting. Melting curves can now be used for mutation scanning, sequence matching, and mutliplex genotyping - analyses that traditionally required processing of PCR products by electrophoresis or other non-homogeneous means. Because of its speed and simplicity, popularity of this method is growing.
Two inventions were key to high-resolution melting: 1)
high-resolution instruments
, and 2)
novel saturation dyes
.
To read more, please follow the colored tabs in the navigation bar (top of page)
..
---
Key references
Contact us to receive reprints.
First paper: Clinical Chemistry full text
Book chapter: High-Resolution Melting Analysis for Scanning & Genoytyping (Tevfik)
Publication by application go to our list
Wittwer Lab updated publication on hi-res melting (via PubMed)